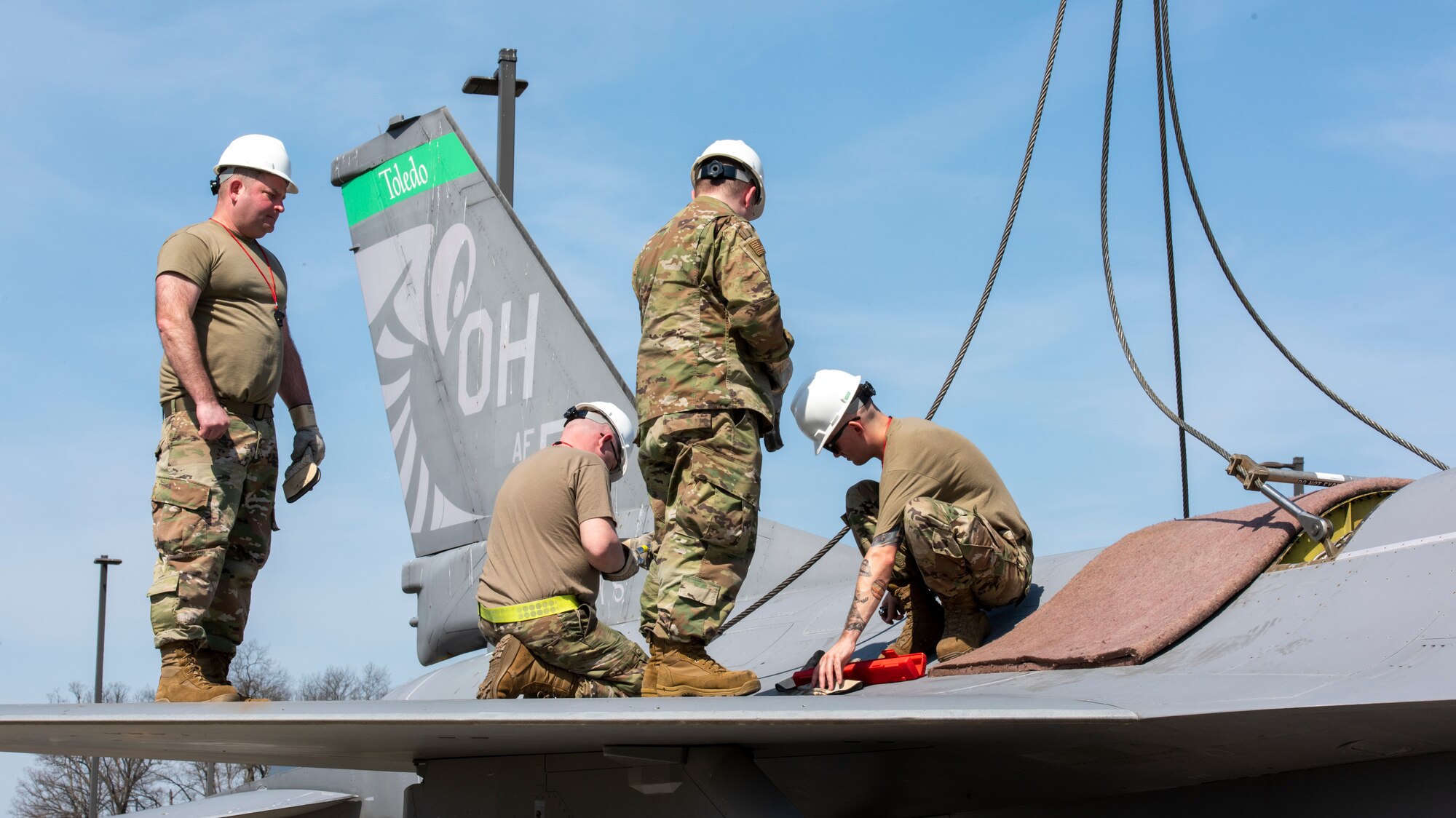 180th Fighter Wing Conducts Aircraft Recovery Training Air National Guard Article Display
SWANTON, Ohio —
U.S. Air Force Airmen assigned to the Ohio Air National Guard's 180th Fighter Wing and 200 Squadron RED HORSE worked together for a crashed damaged/disabled aircraft recovery training event on the 23rd and April 24, 2022, in Swanton, Ohio.
"CDDAR training includes both classroom training and hands-on training that allows Airmen to practice other aircraft lifting and towing procedures," said Senior Master Sgt. Jeff Axe, a phase maintenance dock supervisor assigned to the 180FW. "This includes lifting an aircraft with inflatable lifting bags, lifting with a sling and crane, pulling an aircraft that may be stuck, and recovering and mitigating composite materials."
CDDAR is a critical capability and allows Airmen to respond to aircraft emergencies when needed. Although RED HORSE, a self-sustaining, highly mobile, and rapidly deployable civil engineer response force, is a separate squadron located in Port Clinton, Ohio, joint training exercises build partnerships and ensure Airmen are prepared to react at any time.
"If a pilot declares an in-flight emergency, the CDDAR team assembles and prepares to handle the emergency once the plane is on the ground," Ax said. "This could include something as simple as towing the aircraft back to the flight line once it lands safely, or in the worst case, responding to a crashed aircraft. In-flight emergency, the long, loud siren on base is activated.This is the indicator that lets everyone know there is an emergency and allows the CDDAR team to assemble.
The team is comprised of Airmen from across the maintenance group, including electricians, outings, weapons, avionics, aerospace ground equipment, engine shop, quality assurance and more .
"The team is a mix of specialized and diverse skills, ready and able to respond to any aircraft recovery scenario," Axe said. "There are currently seventeen core team members and sixteen additional members."
Realistic training relies on diverse groups working together, ensuring they are ready to react to a real scenario if an aircraft crashes or becomes disabled.
"The CDDAR capabilities exercise prepares Airmen to effectively recover aircraft, allowing flight operations to resume as quickly as possible," Ax said. "In addition, it is the responsibility of CDDAR teams to retain evidence of the incident should an investigation be required. It is important that as the aircraft recovery operation progresses, any evidence of what may have caused the incident is preserved. Crash Preservation The site helps the investigation team determine what happened and may help prevent future similar incidents."
During the two-day training event, Airmen successfully recovered an F-16 Fighting Falcon and an F-84, used to introduce variety.
"The practice has been great for us as well as for RED HORSE," Ax said. "We were able to develop essential skills and establish cooperation in the event of real-world operation. We achieved all the objectives that we set for the training event."