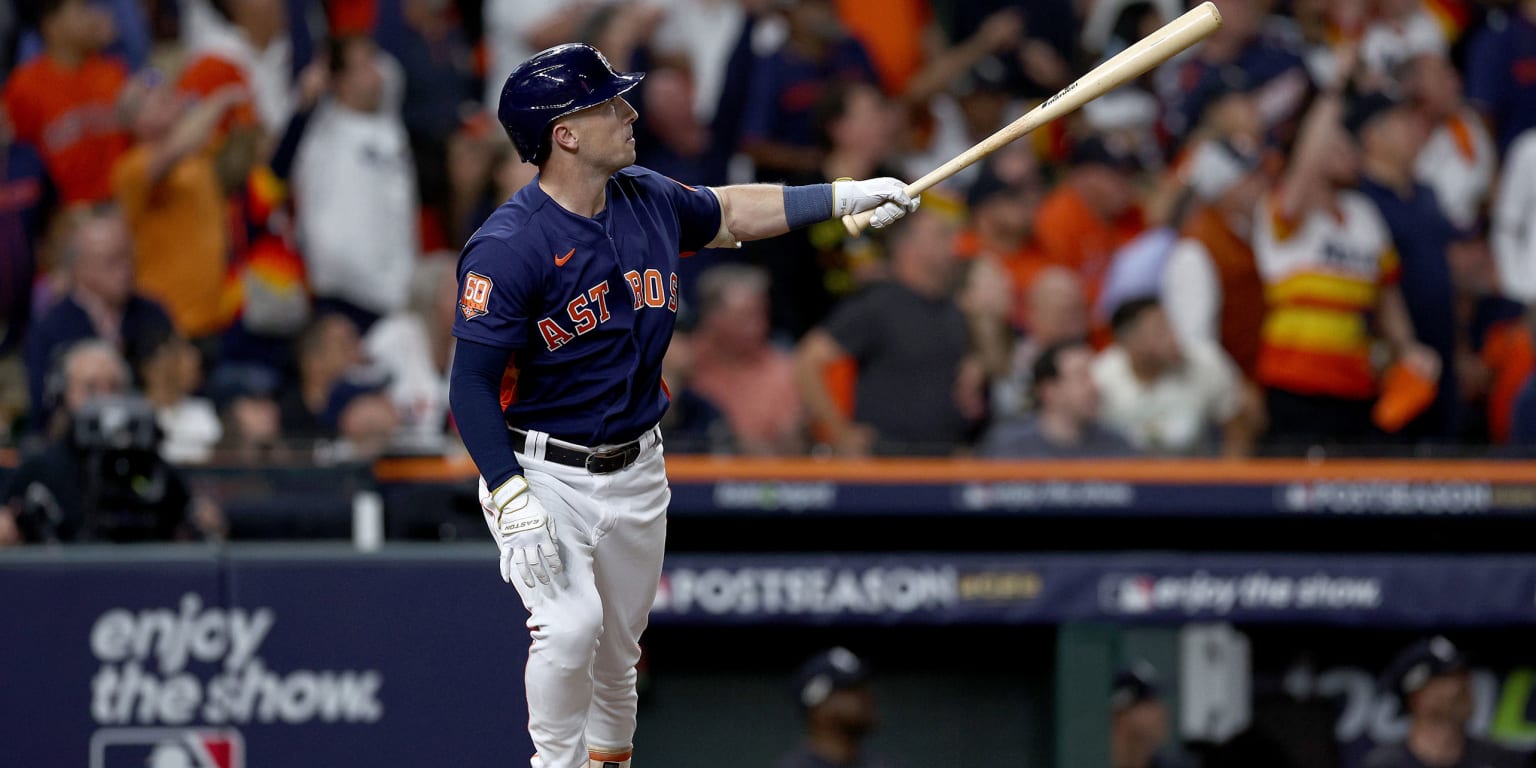 Alex Bregman's Workout Routine Leads to Consistency
NEW YORK — Alex Bregman wasn't getting the results he wanted, so the Astros third baseman went looking for answers. After two years of below average numbers – the result of inconsistent mechanics following a series of injuries – Bregman has taken drastic measures this year to get his body and swing in the right position to return to the All-Star form he had in 2018 and '19.
Bregman, who finished second to Mike Trout of the Angels in the 2019 American League MVP race, was slowed by a hamstring injury in 20 and a quad injury last year. He also underwent postseason surgery to repair a right wrist injury that prevented him from gripping the bat. His performance at home plate suffered, but his confidence never did.
"I always felt confident," Bregman said. "Even when the swing wasn't going my way at the start of the year, I felt confident that I could get it where I wanted it and play at an elite level."
Bregman's goal was to improve his fitness to try and prevent further injury. He also added some batting drills mid-season to help him remember his swing mechanics and how to replicate them. He responded with a monster second half: He posted a 1.133 OPS with seven homers and 22 RBI in August and he carried it over to the playoffs, slashing .318/.375/.636 in five Astros wins between the series. AL Division and the AL Championship Series
Bregman hit a key three-run homer in the Astros' 3-2 win over the Yankees in Game 2 of Thursday's AL Championship Series at Minute Maid Park.
"Personally, I feel – when I'm mechanically right, I feel like one of the best players in the world," said Bregman, who has played 155 games this year. "When I'm not, I feel like it's more of a chore, more of a battle. … For four months, I have been mechanically right and I have been able to play at a high level.
Here's a look at what Bregman did to regain his form.
In addition to working with the Astros' strength and conditioning coaches, Bregman's camp has asked for additional help. Before the season, he reached out to legendary NFL quarterback Tom Brady's longtime coach Alex Guerrero to find out what Brady is doing to stay on top of his game.
"We spoke to him and just said, 'Hey, what are you guys doing to stay healthy for so long? ", Bregman said. "And we started to integrate that.
After breakfast each morning, Bregman performs deep tissue work on his lower body. When he arrives at the stadium each day, he does high-intensity band work with Astros' strength and conditioning trainers to activate the different muscles he'll be using in-game.
"And it's kind of like my, 'Okay, body, time to turn on the switch,' and then we also do a lot of isometric work for the hamstrings, quadriceps, hip complex," Bregman said. "And then after the game, we do more tissue-soothing work on the body. I feel fantastic. I've never felt better. Honestly."
Bregman's body felt great heading into the season, but he was slashing .238/.356/.408 with 11 home runs and 46 RBIs in the All-Star break (a .764 OPS). In July, he began working with batting coach Troy Snitker on pre-game drills to harness proper mechanics, particularly lower-body mechanics. They started the day after the star break when they figured out what was missing.
"We started to really notice that when I landed correctly [with his front foot] and I had gotten to the ground correctly, I was able to stay closed and not spin the ball," Bregman said.
Bregman and Snitker do a series of drills in the cage before heading out for batting practice to reinforce his swing mechanics and the position he wants his feet to land in. When Bregman steps onto the court for BP, he tries to replicate these drills to make sure he not only has the right swing mechanics, but is also able to hit all different types of pitches in different spots.
"It was a good second half," said Bregman, who posted an .894 OPS after the All-Star break. "I think the damage has gone up, which is what we wanted. And the swing decisions have been good all year. They've been good for the majority of my time here, but I think most importantly, it's when I'm mechanically strong with good swing decisions, I think that produces high OPS.