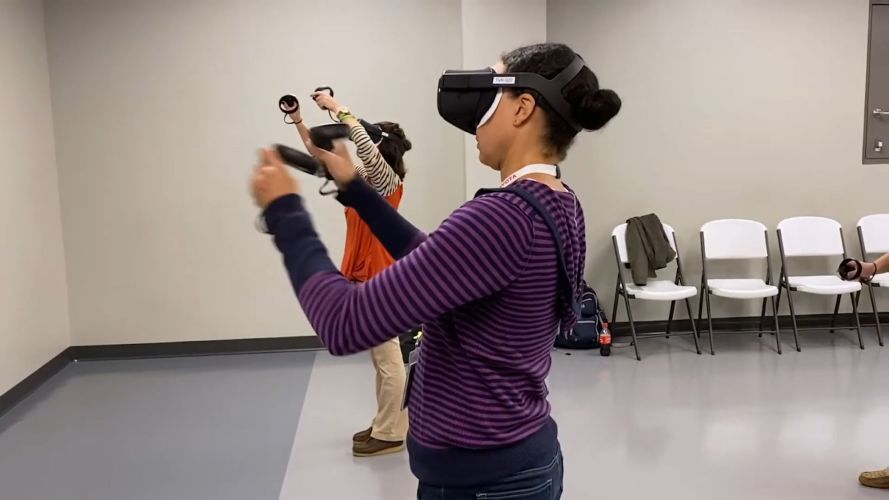 Arkansas expands virtual reality for job training program after initial success
A project that uses virtual reality headsets to train people for new careers is showing promising results, the Arkansas Office of Skills Development announced Thursday.
Officials said that during a six-month experiment, the agency used a VR headset platform from a company called Transfr to train 205 students at 15 schools and other sites across the state. The early success of the program, which targeted high schoolers, community college students and professionals looking to change jobs, led the bureau to expand the program — officials said they expect to reach 4,500 additional students This year.
Simulations provide users with an inexpensive opportunity to try out jobs such as welding, warehousing, hospitality, and public safety. Cody Waits, director of the skills office, told EdScoop that early feedback on the program has been positive and he expects to see an increase in placements as the end of the school year nears. .
Waits said that while he doesn't expect virtual reality to entirely replace hands-on training, the realism of the simulations is "truly impressive". Virtual reality is commonly advertised as a way to expand access to training resources and reduce costs – Waits said students who are unsure of a new field can play in simulations before burning some fuel in a real welder or climbing under a jack.
"It's very expensive to buy $50,000 [fabrication] machines, $50,000 robots, hundreds of thousands of dollars in welding equipment, welders, materials, etc., and all the junk that comes with those materials that you need to train people on those devices," Waits said.
However, some Arkansas educators were not immediately enthusiastic about the idea. Waits said it took training and marketing to convince instructors that VR was worth their time, but they mostly succeeded. (Although one institution was not using the headsets and was kicked out of the program, he said.)
"Whenever you bring a new technology to a group of educators or to a classroom, there's always that hesitation to adopt. And we felt that when we brought Transfr to the state," he said. "Now they are our biggest supporters. They're out there waving the banner for it.
Waits said the program is funded by general state funds, but is also gaining support from employers looking for new blood, including Altec, a company that services and manufactures equipment for utilities. and the telecommunications industry. This company sponsored a program called the Altec Technician Education Program at Arkansas State University at Beebe, where students can obtain certification in diesel technology.
Beyond those entering the workforce or changing jobs, Waits said next steps could include using headsets at the state unemployment office so people out of work can explore new job options.
According to a Transfr spokesperson, its VR technology is now used by 29 states.