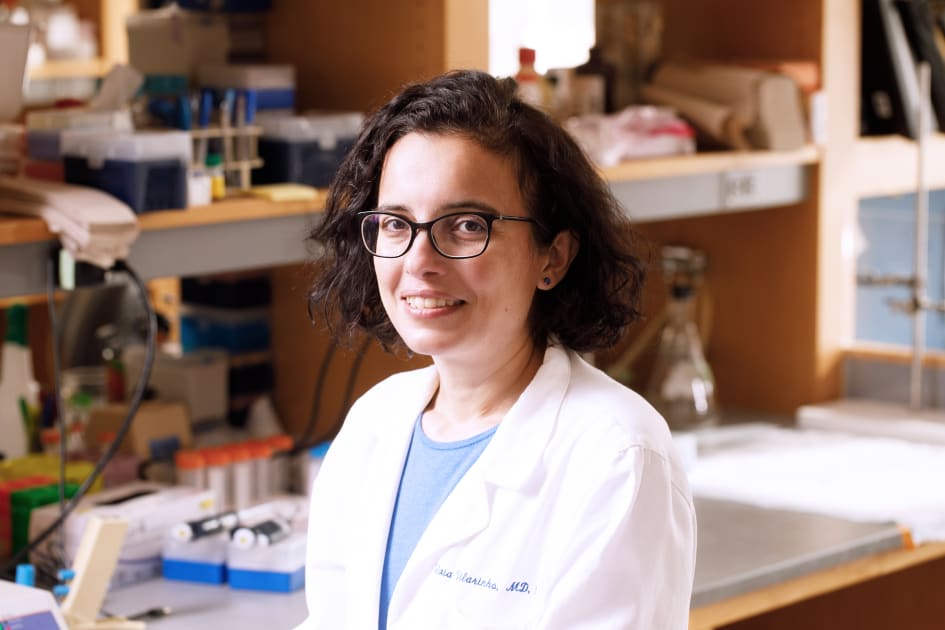 Dr. Silvia Vilarinho named Associate Director of Yale's Physician Scientist Training Program in Internal Medicine
Silvia Vilarinho, MD, PhD, assistant professor of medicine (digestive diseases) and pathology; and Associate Director, Yale MD/PhD Program, has been named Associate Director of the Yale Internal Medicine Physician Scientist Training Program (PSTP).
"I am excited to join the PSTP leadership team in recruiting and retaining a diverse and creative group of talented physician-scientists at Yale Internal Medicine. I look forward to helping create an exceptional environment to train and motivate the next generation of physician-researchers," said Vilarinho.
Vilarinho is a medical researcher who uses genetics, genomics and human samples to study the molecular basis of various liver diseases of unknown etiology. His lab, based at the Yale Liver Center, has identified several new genetic liver diseases. Their research goal is to discover new genes important in liver function in both health and disease and to use cell biology and animal models to determine the specific mechanism(s) linking the mutant gene to disease, with potential diagnostic, therapeutic and prognostic applications.
She received her MD from the University of Porto, Portugal, while continuing her doctoral research at the University of California, San Francisco. She entered residency in the physician-scientist pathway, first at the University of Minnesota and then in the Department of Internal Medicine at Yale School of Medicine, where she also completed her fellowship in digestive diseases. She is committed to training medical scientists, supervising many medical/doctoral, doctoral and medical students.
PSTP Director Charles S. Dela Cruz, MD, PhD, Associate Professor of Medicine (Respirology, Critical Care, and Sleep Medicine) and Microbial Pathogenesis; Vice Chief, Basic and Translational Research, Pulmonary, Critical Care and Sleep Medicine Section; Director, Center for Research and Treatment of Pulmonary Infections (CPIRT); and the PSTP alum is delighted that PSTP alum Vilarinho is joining the program management.
"Dr. Vilarinho was chosen for this role because she exemplified an excellent example of a physician-researcher-mentor, given her outstanding research, strong clinical skills, and successful mentorship in her leadership roles at the 'School of Medicine,' he said, 'I am thrilled to work with her and the Residency and Fellowship Leadership Group to recruit and foster the development of future leading physician-scientists.'
Yale's Department of Internal Medicine is among the nation's premier departments, bringing together an elite cadre of clinicians, investigators, educators, and staff in one of the best medical schools in the world. To learn more, visit Internal Medicine.