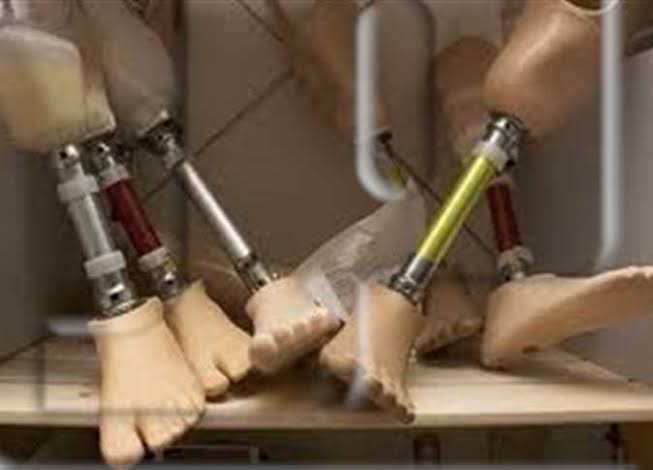 President Sisi orders integrated system for production of artificial limbs in Egypt
Egyptian President Abdel Fattah al-Sisi on Saturday ordered the establishment of an integrated system for prostheses and artificial limbs.
This happened during Sisi's meeting with Prime Minister Mostafa Madbouly, some government ministers and officials from the Ministry of Defense.
Presidency spokesman Bassam Rady said the meeting discussed "the follow-up to the leadership position for the establishment of an industrial complex for prosthetic devices."
President Sisi ordered to integrate the efforts of all relevant authorities in Egypt while appealing to foreign expertise in this field to transfer technology and use the best international raw materials to obtain a high quality product within the framework of the new state system for the local production of prostheses.
Sisi also ordered to provide rehabilitation programs for training on the use of these limbs in accordance with the latest international standards, thus achieving the desired goal of providing a unified and integrated set of high-level medical services for citizens with reduced mobility on a solid scientific basis.
This will help alleviate their suffering, empower them, make optimal use of their abilities and help them integrate into society.
Sisi also ordered the preparation of a comprehensive database listing the number of people with reduced mobility across Egypt. It will also help integrate all academic disciplines related to prosthetics and physiotherapy into the curricula of modern science colleges recently established by the government.
This will thus create a technological incubator for the benefit of the industrial complex to be set up for the production of artificial limbs.
The President was briefed on the current efforts to establish a comprehensive industrial complex for prosthetic devices and movement aids in cooperation with international expertise and large international companies, as well as what has been achieved through the technical committees. specialized.
The meeting also reviewed the ongoing cooperation and coordination between different stakeholders to study the number of people with reduced mobility and the targeted quantities of prosthetic limbs, in addition to listing all the system components of factories and workshops. premises for supply industries, medical personnel and technical manpower, as well as international standards and the necessary technical and medical specifications.