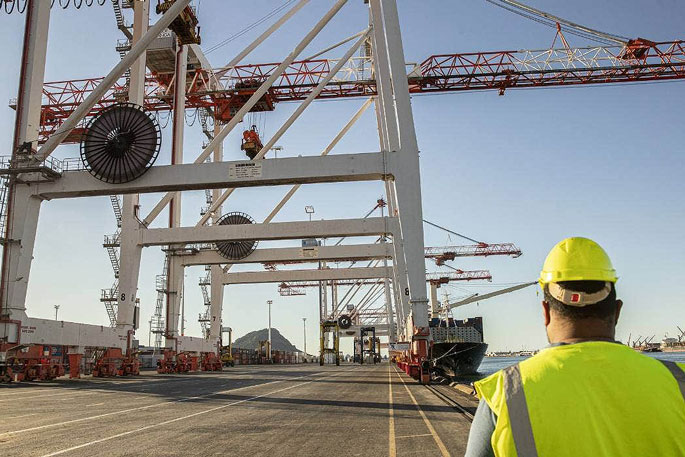 SunLive – Safety Reviews Highlight Portworker Concerns
Safety reviews at 13 New Zealand ports have highlighted worker concerns over the risk of fatigue-related accidents as commercial pressure increases to 'get the job done'.
Labor Relations and Safety Minister Michael Wood in April ordered a nationwide inquiry into port security in April after two port workers died in a week, and initial reports have revealed there may be a disconnect between managers' perception of safety standards and what front-line workers say. actually happens.
At the port of Tauranga, inspectors from Maritime NZ and WorkSafe were told that 'toolbox' safety briefings were being rigged, with workers signing their names on an attendance list for meetings that never had place, and reviewers said if this is true, employers must take steps to ensure this "alleged subterfuge" has been stopped.
An employer in the port of Tauranga was described as having a 'production rather than safety' culture where accidents and incidents were dealt with as they happened, and less attention was given to prevention.
Inspectors met with representatives from port management, stevedoring companies, health and safety teams and trade unions during their site visits.
Safety assessment summaries of 13 ports published under the Official Information Act note many good practices, such as new log handling machinery putting workers out of harm's way.
But they also identified areas needing improvement, including working at height and under suspended loads, training and fatigue, the latter being raised as an issue in Tauranga, Lyttelton, Napier and Centreport (Wellington).
Workers have complained about 12-hour shifts and the risk of fatigue-related accidents as commercial pressure from shipping lines increases competition between ports.
Some workers in Tauranga said they worked 12-hour shifts eight days in a row and were told to "manage their fatigue on their own".
The review says travel hours for workers transferred between ports were not counted as work, so someone making the four-hour journey from Wellington to Tauranga had to start a 12-hour shift at His arrival.
Requests for minimum numbers were ignored in some cases, so the number of people in a gang could change from day to day, even though the task remained the same.
"More than once across the port, inspectors were told there was often pressure on workers to 'get the job done,'" the safety review said.
In Lyttelton, inspectors say some port workers were happy with the work schedules, but others who worked 72 hours over six days, followed by 36 hours off, felt the downtime was too short.
Workers at the port of Lyttelton described 'rolling eight' shifts where they worked eight hours, eight hours off, eight hours on again, and said it could lead to accidents, but the port company says that 'it consults with unions on the implementation of measures to manage the risk of fatigue. Photo: John Kirk-Anderson/Stuff.
Port companies in Auckland and Lyttelton have come under scrutiny following the deaths of workers this year, but they have faced far less criticism than Tauranga in safety ratings.
Workers at Lyttelton were arrested for not wearing PPE properly, and in Auckland those driving cars off ships broke speed limits and failed to wear seatbelts, issues that officials say two port companies, have been resolved.
Maritime NZ director Kirstie Hewlett says port summaries should not be taken as an audit or endorsement of health and safety practices.
They only provided a snapshot at one time and were unable to cover all activities as time constraints prevented a thorough assessment of training levels and standards.
In Tauranga, inspectors identified a number of training gaps and said companies "must take steps to address apparent inconsistencies between what managers believe is in place and what workers are actually doing around the job. port ".
Inspectors noted that training and standards for similar tasks at Tauranga varied from employer to employer, and although workers have been seriously injured falling from heights in recent accidents at the port, there are was concerned that a company routinely allows untrained employees to work at height.
Due to language barriers, an operator-led training program had only one trainer to train all workers from a foreign country, and a sample of training records revealed that one crane operator had only acquired only two or four skills required for his job.
Workers also questioned the reliability of a registration system that used an algorithm to prevent them from being assigned to tasks they were not trained for, and inspectors said its effectiveness needed to be monitored. .
Port of Tauranga chief executive Leonard Sampson points out that the inspectors' assessment covers at least six commercial operators, including C3, SSA, ISO and ISL stevedores, and that the port company's individual report "did not raise no major concerns for either regulators or ourselves."
He says they found no evidence that safety briefings were recorded but not actually held, and that employees of other companies are free to raise such issues in shared safety forums.
"There are many private and public avenues to raise concerns and people often do."
Auckland Ports Chief Executive Roger Gray has appointed five other experienced port workers, including the chairman of the Maritime Union, to train staff on behavior at work.
"I don't think safety is about watching, it's about setting an example for people."
Pat Kirk chairs the safety committee of the Port Industry Association, a body representing ports and major employers of stevedores, and he disputes claims about sanctions lists.
"We've found that over the past two years, supply chain congestion and labor shortages have been a much bigger factor in managing fatigue than work schedules."
Kirk says a port sector health and safety leadership group made up of union, regulator and industry representatives will soon launch new guidelines on fatigue management, and they will help find tailor-made solutions to meet the needs of each port.
Maritime Union National Secretary Craig Harrison says attitudes are changing and he is aware of workers being fired for serious health and safety lapses.
"For a long time safety briefings weren't taken as seriously as they should have been, but over the last 12 months I'm starting to see changes."
However, Harrison is not convinced that the disconnect between workers and managers on safety has yet been resolved.
"This will take some time to resolve, as it involves building trust within the workforce so that they are engaged and feel they are also being listened to."
The assessments from the 13 ports will feed into a national safety report that will identify who was injured, how and why, and a draft action plan will be presented to Minister Wood over the next few months.
WorkSafe and Maritime NZ have also carried out checks on 50 individual port companies, but Hewlett says these are not shared within the industry due to privacy concerns and commercial sensitivity, and there is no intention to make them public.
-Amanda Cropp/Stuff.