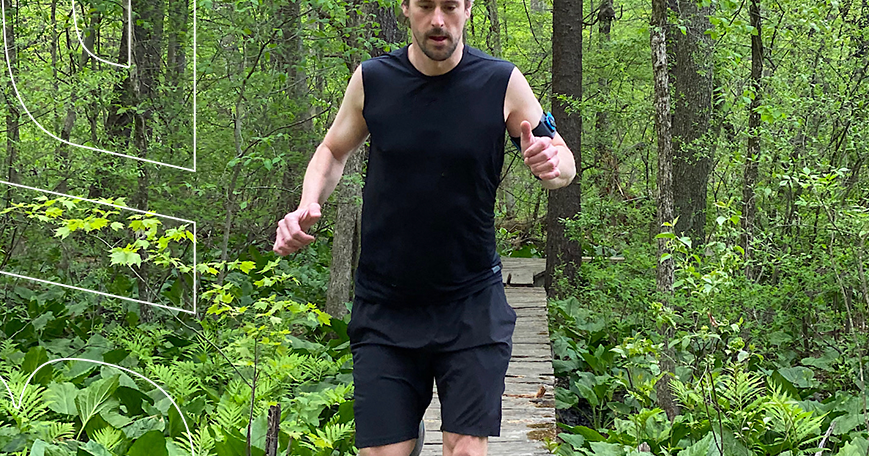 Tom Brady Foundation: Garrett Morgan | Sports
Garrett Morgan
Age: 43
Residence: Boxford
Hometown: Rochester, NH
How did you start running in the first place: I was a sprinter as a kid and in the summer I would ride my bike to the high school track to compete in local Department of Recreation races. I then competed at the local Hershey Track Meet and had the opportunity to represent New England at the National Hershey Track Meet in Hershey, PA. My running career came to a halt soon after, as I focused on football, hockey, and baseball. I didn't start running long distances until my wife and I moved to Orange County, California in 2008 and got a very energetic chocolate lab.
The journey continued with a Bob double stroller when we had our first set of twins in 2010 (we have two sets of twins who are now 9 and 11). When we moved back east to Boxford in 2013, I started managing the many trail systems in the area. When I'm not training for a race you can find me on one of the many trails here on Boston's North Shore, my favorites are Bradley Palmer State Park, Willowdale State Forest, Appleton Farms and local Wildcat trails, Lockwood Forrest, Boxford Common here in Boxford. I usually run the Newburyport Half Marathon in the fall and completed my first marathon in 2019 in Nashville, TN. I'm excited to race Boston this year and share the experience with my friends and family.
What are your running goals? I'm still chasing a marathon under 4 hours. I finished the race from Nashville at 4:18. When I'm not training for a race, the goal is to tire the dogs out and get out there and refocus. Running is now a form of therapy for me, it's a great way to explore new places and clear my head while staying active and ready to keep up with the kids and keep doing the sports I love.
How was the training: The training was great this time around. When I ran my first marathon, I learned a lot about nutrition, hydration, and the kind of physical and mental work required to last four hours on the road. I learned from previous mistakes and incorporated a lot more stretch and strength work this time around and having the opportunity to work on flexibility with the TB12 body trainers paid off with a lot less discomfort after long runs. The hardest part of training is the time required. My training plan has me running 30-40 miles a week, with long runs ranging from 12-21 miles. I find being on the road for 2-3 hours at a time can be more mentally challenging than physically so I'll use apps like Peloton Outdoor to have a running coach in my ear or listen to podcasts to get through the weather.
Tell us about the association and your relationship:
I run for the TB12 Foundation. If you live in New England, I think the connection is pretty clear. Tom Brady and I are around the same age and lucky enough to work with TB12 body trainers and get a taste of how the greatest football player of all time prepares and maintains his ability to compete at the highest level was selfishly a big part of the decision to race with this group.
Also, as a coach of various youth sports in the area, seeing the work the TB Foundation does with young athletes and the resources it provides to keep kids on the field or back to doing the things they love is something that I was very happy to be able to support you on this journey.
How people can donate: https://www.givengain.com/ap/garrett-morgan-raising-funds-for-tb12-foundation/