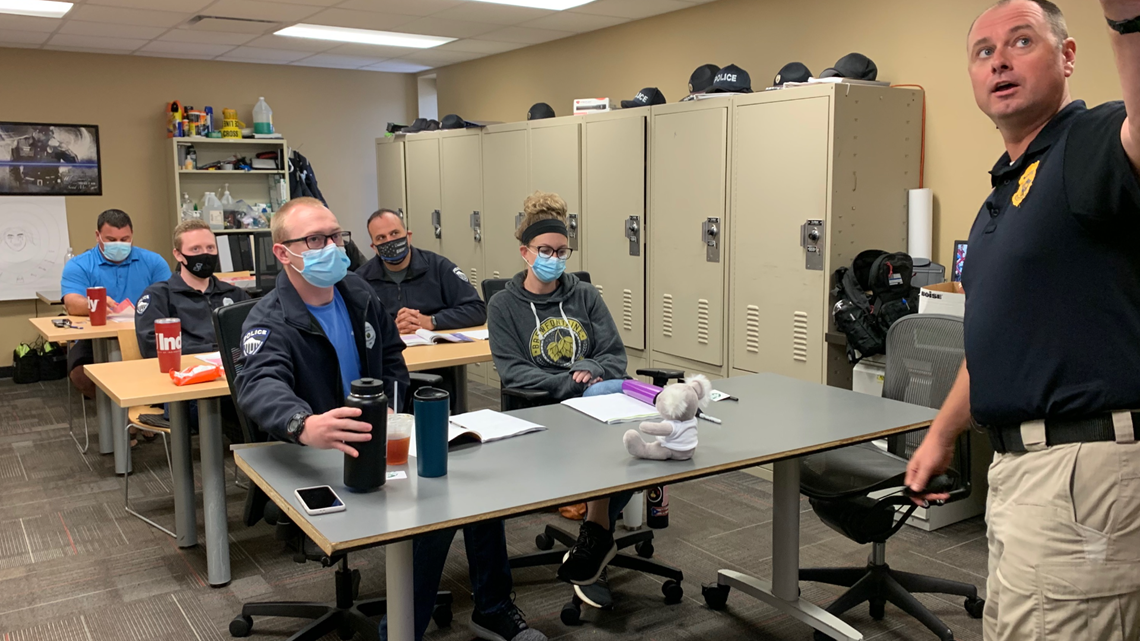 UIndy officers receive mental health first aid training
UIndy police officers are now trained to administer mental health first aid to people facing a crisis.
INDIANAPOLIS – Police officers at the University of Indianapolis are receiving new training to help people with mental health issues.
The aim is to connect people in crisis with support and resources, instead of sending them to jail.
Campus police on patrol in and around UIndy say they have recently noticed a spike in their shifts, especially since the pandemic.
More and more students are struggling with stress and mental health issues, and more people are homeless nearby, using campus buildings as temporary shelter.
The department therefore contacted IMPD for a course on mental health first aid.
"We really hope to give our officers resources and alternatives to arrest," said Undy's Deputy Police Chief Hailey Padgett-Riley.
"Someone in a mental health crisis – not a criminal, is he? And they're under so much stress they really need help," said IMPD Sgt. Lance Dardeen, who led the training sessions at the university.
Sgt. Dardeen oversees the mobile crisis assistance team for IMPD.
He teaches the 13 members of the University of Indianapolis Police Department a five-step action plan to reach out and offer support.
It is the equivalent of CPR during a heart attack.
The acronym of the plan is ALGEE:
"The first thing we want to do is we want to assess the risk of suicide or harm. Then we want to listen without being judgmental. We want to reassure and inform. We want to encourage appropriate professional help, then we want to encourage d 'self-help and other supportive strategies, "Dardeen explained." We focus on the signs and symptoms. How to recognize them, then how to take this information and bring the person in crisis to the most appropriate resources. "
Officers are then able to put people in touch with counselors to deal with drug addiction or depression.
They also now carry hygiene kits in their cars for the homeless and try to guide them to safe shelter resources instead of stopping them for trespassing.
"A lot of officers don't want to have to arrest people and they have a heart for people who just need a little extra help," Padgett-Riley said. "If we can help in another way, using our discretion, then it's better to do it than to stop people and just send them on another path to fight."
Now armed with this new training, officers know how to step in and recover when faced with a mental health crisis on campus.
"The main thing is to try to keep the students safe," said UIndy patrol officer Noah Weeks. "Being able to identify people who may need extra help and being able to give them the help they need is definitely helpful."
Mental health first aid training is not just for police and public safety groups.
Classes are for everyone, just like a CPR class.