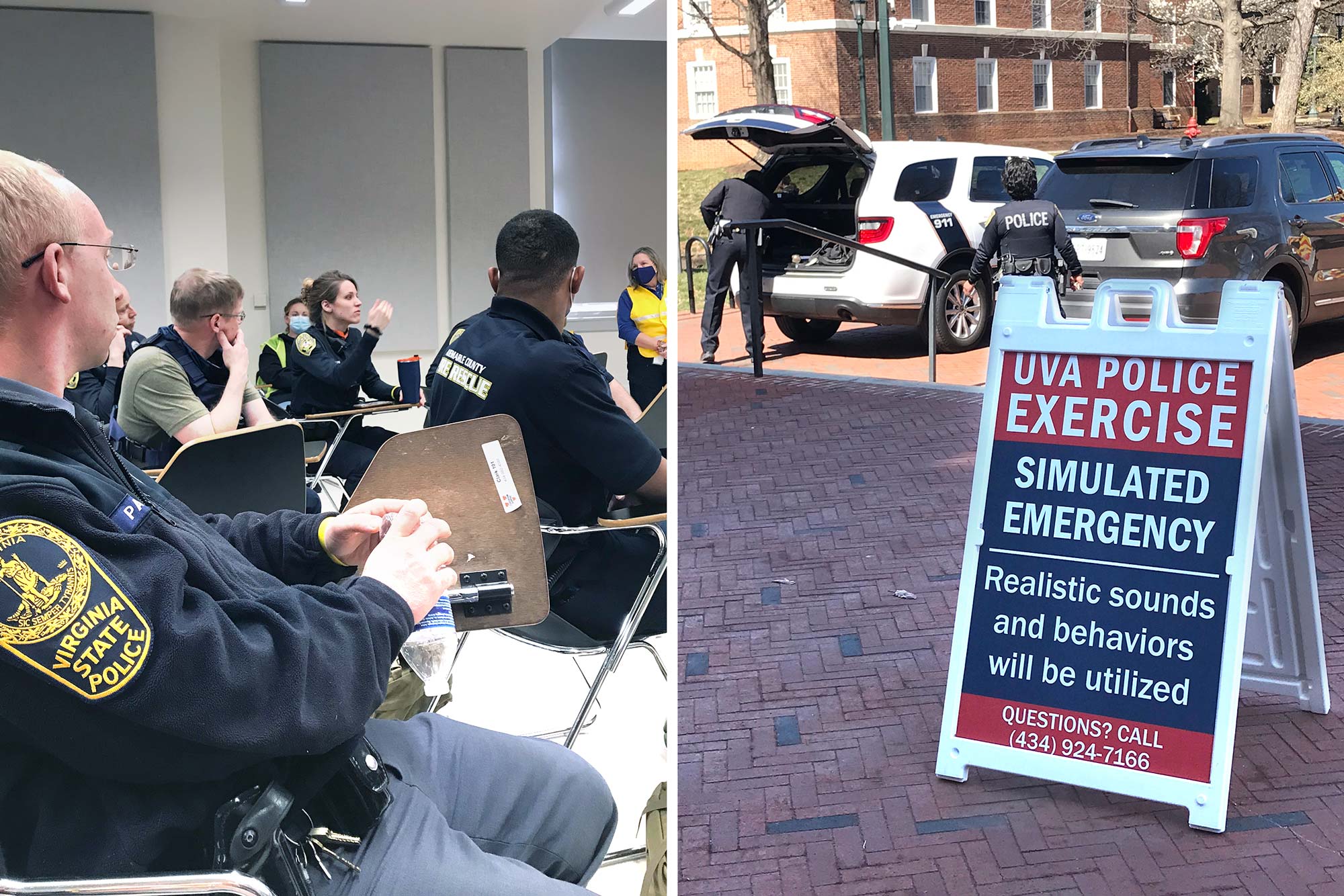 University police and local partners train to respond to active threats on the ground
On a cold March morning during spring break, dozens of first responders gathered outside John W. Warner Hall at the University of Virginia for a day of active threat training.
As they waited, creaks were heard inside. The police radio voice announced, "This is an exercise. In small groups, UVA police with their regional law enforcement partners and red-vested volunteer "evaluators" quickly entered the building as if responding to an active attacker.
Officials designed this "regional critical incident exercise" to build the University's ability to respond to a complex active attacker incident in coordination with local first responders. The UVA Office of Emergency Management, in conjunction with the university's police department and the Virginia Department of Emergency Management, took six months to plan the exercise.
"We have to be prepared for this kind of event," Associate Vice President of Safety and Security and Chief of Police Tim Longo said. On a normal university day, the University Police Department is responsible for the safety of no less than 50,000 students, faculty, staff, patients and visitors on the grounds.
The spring break training exercise included first responders from University Police, Albemarle Police, Albemarle County Fire and Rescue, Charlottesville Police, Charlottesville Fire Department and Virginia State Police. Experienced observers and evaluators from the University and municipal, county, state, and federal agencies also participated. In total, the exercise involved more than 55 law enforcement, fire and emergency medical service professionals, 30 support personnel and 21 citizens who volunteered to play the role of "victims ".
Although every police academy trainee officer learns how to locate and defuse an active threat, repeated training is required to keep these skills current. The Regional Critical Incident Exercise provided back to back exercises to enter a high stress environment and neutralize an active threat. After each exercise, the police went to a classroom in Clark Hall for a lively discussion about what went well and what needed improvement.
"Today is about making mistakes, learning and improving," said Gene Stewart, chief regional coordinator at the Virginia Department of Emergency Management.
Why a regional response?
When a significant critical incident occurs at AVU, it also occurs to regional and state law enforcement as well as fire and rescue services. This ripple effect is due to city, county, and university police forces maintaining mutual aid agreements to share resources and expertise. These agreements allow small police services to quickly increase their numbers in the event of natural disasters, critical incidents and high-risk situations. Neighboring jurisdictions could potentially respond to active threat calls on Grounds, and vice versa.
In fact, just a week before this drill, University and Charlottesville police apprehended an armed suspect in the field who was later charged with multiple crimes. The incident ended peacefully after a quick response from multiple agencies.
"You can put a multi-jurisdictional plan on paper, but the proof is in the implementation," UVA Police Sgt. said Ben Rexrode. "In a regional exercise, we simulate being able to respond to an active attack and look at the person to our left and to our right, who we may not know, but who we have to work with."
One-year Active Threat Scenario Training at AVU
This exercise was part of a year-long series at UVA to train individuals and groups who would be involved in responding to an active threat on the ground.
"By using a consistent active threat scenario throughout our 12-month training, every facet of responding to an active threat in the field will have had the opportunity to train for that particular response," John DeSilva, Bureau Director of AVU Emergency Management, mentioned. "We take the results and feedback from each exercise and use that information to guide training opportunities and changes to our procedures. This is the day you never want to come, but we are preparing for it methodically.
In any emergency situation, clear, accurate and timely information is essential. UVA's Emergency Notification System sends alerts through multiple channels, including email to anyone with an active UVA email address. [To receive text alerts, UVA students, staff and faculty can add their mobile number to their account. UVA Alerts texts are also available to anyone by texting "UVA" to 226787.]
Attacker prevention and response training
While incidents involving an active attacker on college campuses are rare, the impact on affected individuals and communities cannot be overstated. During a 60-minute training session for members of the university community, scheduled for April 21, the AVU Department of Safety and Security will discuss what the Office of University Threat Assessment , the Office of Emergency Management, and the University Police Department are doing to prevent, prepare for, and, if necessary, respond to an active attacker event. Attendees will learn about emergency notifications and how to report behavior, and will be presented with easy-to-remember options for those facing a violent situation. The session will take place at 4:00 p.m. in the Newcomb Hall South meeting room.
The event is free and open to students, faculty, and Academic Division staff. For more information, contact Mackenzie Baker, Emergency Management Coordinator, at [email protected]. Please register for the training here.