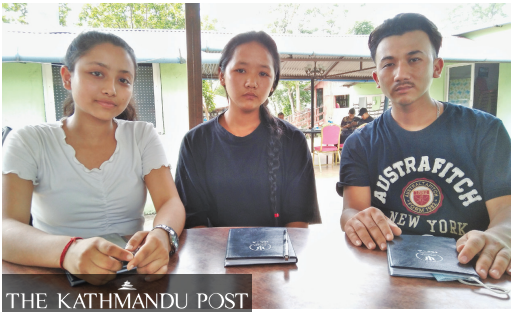 Young people undergoing nature guide training
Elisha Mulmi, a resident of Jitpur Simara Sub-metropolis 5 in Bara district, is a first year undergraduate student at the Hetauda-based Institute of Forestry. The 19-year-old recently received a week-long nature guide training from Parsa National Park. She took the training to gain practical knowledge about forests and nature, she said.
"The training provided an opportunity to gain on-the-ground information regarding natural vegetation and wildlife, which is essential for an aspiring nature guide," Mulmi said.
Debi Magar had some free time after graduating from grade 12, so she too decided to take the training. The nature guide training was a godsend for the 19-year-old girl who was able to take advantage of her free time and have the opportunity to learn new things. "I was free after passing grade 12. I took the nature guide training to learn new things about the forest, wildlife and nature," Magar said.
Pujan Shrestha, 21, from Subarnapur in the municipality of Thori-5 is another beneficiary of the nature guide training. He has always been very interested in the study of forests and wildlife since his early childhood. "I have a deep interest in working in the field of forestry and wildlife. My father is an environmentalist. The nature guide training was a great opportunity for me. I plan to run a homestay or resort and work in the tourism sector," Shrestha said, saying the week-long training fulfilled her burning desire to observe nature and nature up close. wildlife.
Many young people like Mulmi, Magar and Shrestha are trained as nature guides in Parsa. No less than 20 young people, including three women, received training from Parsa National Park last month. According to Tikaram Giri, one of the two trainers involved in the nature guide training, all the participants were under 35 years old.
"The trainees were very enthusiastic and participative. We took the participants to the forests twice a day and provided them with on-the-job training. They observed wildlife and birds up close and learned to identify the footprints of various wild animals," Giri said. According to him, the trainees were informed of their duties and responsibilities before taking up their duties as nature guides.
The government of Madhes province declared the Thori area of ​​Parsa district as a tourist area a few months ago. Such training should benefit local youth.
"Local people, mainly young people, can manage host families or start a hotel business after receiving such training. Tourism entrepreneurship should not be limited to Chitwan, especially Sauraha. Young people should be involved in tourism where there are prospects," said Giri, saying the nature guide training has been very helpful in encouraging young people interested in nature tourism.
Parsa National Park, the youngest national park in the country, provided similar training six years ago, but almost all of the trainees were not involved in tourism activities then. According to the park's conservation officer Manoj Kumar Sah, the participants in the nature guide training were selected by the park's consumer committee hoping that this time they will be involved in tourism-related activities. "The national park aims to promote tourism in the region by providing such training for aspiring tourism entrepreneurs and tour guides. We also plan to offer similar training next year with the aim of increasing the number of trained naturalist guides," said Sah.